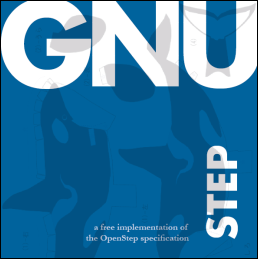 What is it?
GNUstep (this is a live CD, an operating system, a distribution) contains a lot of software for GNUstep, a free implementation of the OPENSTEP and
Cocoa
framework (which was also the base as Cocoa on Mac OS X). It includes an excellent application called
Gorm
for
RAD
(
Apple Software Design Guidelines
). More about
the Objective-C Language
. The currently used window manager is
Window Maker
. Read
this very informative article
about what GNUstep is.
If you are an OPENSTEP, Cocoa developer and want to port your software to GNUstep and release it as Free Software, contact me. More what is questions answered. Still not impressed, read this? Read great documentation. Hopefully soon with a microkernel and a more usable approach to OS design. History about the Lighthouse Design Ltd..
List of all packages on the CD.

Quote of the Booz-Allen Study
took 100+ senior programmers and trained them on NeXTstep, then asked them to write the same app on both NeXT and their previous system.
First application written was written two to five times faster.
Savings were 90 %
83 % less lines of code in the NEXTstep version
82 % said NeXTstep was better in ALL categories
It isn't faster to code on NeXTstep; you just have to write less of it. The revolution is "getting rid of software".
Savoy 1992, Booz-Allen
More about GNUstep

GNUstep is a free software implementation of the OpenStep specification (NeXT/SUN, 1994).
Why you want GNUstep
Cookbook
GNUstep - the ultimate development environment
Independent of X11 | FAQ | Articles on NeXTSTEP
"One could say that GNUstep is a very nice woman, but without proper make-up and with a shabby dress. Although the expert eye could see the star sparkle, the average person maybe would prefer a more normal female with choosen make-up and dress."
Clang vs other Open Source Compilers
GNUstep demo (9:30 min)

What does it look like?

Screenshots | CD case
Screenshots of OPENSTEP
Screenshots of NEXTSTEP
Scans from a NeXT magazine

Press, Media, Magazines

Linux User, March 2004 (german)
Linux Magazin, July 2004 (german)
Linux Magazin, September 2004 (german) page 1, page 2
Linux Magazin, October 2004 (italian)
Slashdot, February 2005 (english)
Linux Magazin (german), 11 December 2009


Report bugs

Please report bugs to me if they are related to this GNUSTEP CD. Otherwise use the bug reporting facility of the appropriate project, which would either be Debian, GNUstep, or FreeBSD.

A GNUSTEP Banner

Download

Department of Physics, ETHZ (CH) | ISO & USB
Axel Beckert (DE) | ISO & USB
If you want your mirror here, contact me

Burn the ISO image, write the USB image

After you downloaded the image check the integrity using this command md5sum GNUSTEP-i686-2.0.iso. If it matches the checksum in GNUSTEP-i686-2.0.md5.txt proceed with burning it. Here is an example command to burn it cdrecord -v speed=8 -dao dev=0,0,0 -data GNUSTEP-i686-2.0.iso. Here is an example command to write it dd if=GNUSTEP-i686-2.0.img of=/dev/yourusbstick.

Translations, Language setting

Select the language from the desktop context menu

GNUSTEP Release History

14 Dec 2009, 2.0 (i686) USB image
12 Dec 2009, 2.0 (SUN UltraSPARC)
10 Dec 2009, 2.0 (i686)
06 Aug 2008, 1.9 (i486)
18 Jul 2008, 1.9 (SUN UltraSPARC)
14 Jul 2008, 1.9 (AMD64)
15 Apr 2008, 1.8 (with powerpc for Apple Mac)
08 Apr 2008, 1.8 (GRUB bootloader)
03 Apr 2008, 1.6 (with AMD64)
06 Nov 2006, 1.0
11 Feb 2005, 0.9.4.2
04 Feb 2005, 0.9.4
05 Jun 2004, 0.5
25 Feb 2004, 0.2


Install GNUstep

On Debian or Ubuntu
apt-get install gnustep gnustep-devel gnustep-games wdm menu
They have a section for GNUstep.

On FreeBSD
cd /usr/ports && make -C install deskutils/gworkspace
They have a section for GNUstep.

On Microsoft Windows
Download the installer or try the Cocotron

Install GNUSTEP on your Computer

install.txt
There was a lot of software.
Here are a few
screenshots of OPENSTEP applications
.
SUN Microsystems
bought the Lighthouse Design Applications who made some
great
office
software
. Help free old (read mature) and excellent commercial OPENSTEP software from the vaults of SUN.COM. You should talk to
Curtis Sasaki
. I wish you'll have success, there was
this petition
. SUN's
statement
.
Politics at SUN
were kinda a step backwards for OPENSTEP but GNUstep is coming.
SUN and Java failed
because it is bad technology, OPENSTEP failed because
managers failed at SUN
.
IBM
has
Lotus Improv
.
Thanks
Denis Bodor
(
GNUstep background image
) |
GNUstep developers
|
GNU
|
RMS
|
Debian GNUstep team
|
Debian Live Project
|
Lea Mathe
(
background picture
)
Links
Kickstart GNUstep
|
HelpCenter
|
collaboration-world
|
Wiki
|
Forum
|
The WorldWideWeb Browser
Features
Software using GNUstep (
Addresses
,
Adun
,
Affiche
,
BioCocoa
,
Camaelon
,
Camera
,
Charmap
,
Cenon
,
Cynthiune
,
EdenMath
,
Emacs on GNUstep
,
GNUstep Database Library 2 (EOF, Enterprise Objects Framework)
,
Gridlock
,
Gorm
,
Gomoku
,
GNUMail
,
GNUstep-icons
,
GNUWash
,
GWorkspace
,
Grouch
,
GTAMS
,
ImageViewer
,
LapisPuzzle
,
Ladder
,
LaTeX Service
,
LuserNET
,
Lynkeos
,
Mines
,
MPDCon
,
Paje
,
ProjectCenter
,
PRICE
,
Poe
,
ProjectManager
,
Preferences
,
PlopFolio
,
Preview
,
Renaissance
,
RSS Reader
,
Scheme
,
Shisen
,
StepTalk
,
TalkSoup
,
TimeMon
,
Terminal
,
TextEdit
,
ViewPDF
,
Zillion
,
Zipper
)
System restore, administrator, and network tools (Google Chrome, foremost, driftnet, flashrom, zoo, randomize-lines, superiotool, htop, moreutils, unmass, memtester, lzma, file, mc, hddtemp, qtparted, dosbox)
Multimedia, audio, graphics and video software (enblend, fontforge, hugin, motion, potrace, evolvotron, gimp, grafx2, graphviz, gifsicle, mm3d, mplayer, wings3d, blender, gmt, goattracker, schism, opencubicplayer, timidity, freecycle, xmp, gnuplot, MilkyTracker)
Games (Powder, sauerbraten-server, bubbros, mazeofgalious)
In development and not yet on the CD (Hex Fiend, AgentFarms, AutoGraf, Bean, BaseFinder, Catakig, CocoaBasic, CocoaFIBS, DigiBux, Duncan, Expense, EdenGraph, FlexiSheet, FlightTrack, Genome-based Peptide Fingerprint Scanning, GNUstepWeb (WebObjects 4.x), gnuspeech, ILogin, Java Interface to GNUstep, MathArray, MiscKit, NoteBook, OsiriX, Pixen, Popup, Position, PhotoClip, Ruby Interface to GNUstep, SlideShow, Smultron, SokoSave, TeXShop, WebKit)
License
The software on this CD as well as the whole content is
Free Software
. This policy is firm and if you find anything on the CD that is non-free, please contact me. I will then promptly remove it.